657,790 new businesses started in the UK in 2016. That's staggering !
1,802 new business were formed in the UK every day last year! That's 75 new enterprises every hour, of every day in 2016, 24 hours a day!
It's so mind blowing that I didn't think it could be true. So I committed myself to looking into the data a little more detail.
The figure of 657,790 new businesses being started in the UK in 2016 came from a report issued in January 2017 by the Centre for Entrepreneurs (report), which is based on their analysis of Companies House data of new company registrations. The 2017 figure was a record, up from 608,110 in 2015 and 581,173 in 2014.
So much for post referendum uncertainty. No evidence of doom and gloom in those figures. But that was last year, so 2017 is probably looking pretty gloomy in comparison, right?  Well, errr… no. Actually up to end of August there have been more than 452,000 companies formed already this year, putting the UK on track to see 2017 being another record year.
If like me, at this point I was thinking, well that's fine but it's probably mostly made up of people driving for Uber. Recent news has pushed the fact that there are 40,000 of them in London alone. Well, maybe that is some of them if they actually registered as a company. But most do not, they simply work on a self employed basis.
The House of Commons library issued a briefing paper in November 2016 which painted a significantly slightly different picture on the number of businesses in the UK.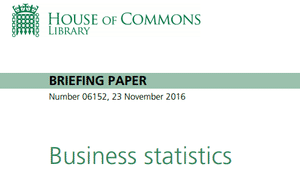 The data in this paper is that in 2016 there were 5.498 million businesses in the UK, up from 5.401 million in 2015. That is a growth of 'only' 97,000 companies, a very different number from the 657,790 reported by the Centre for Entrepreneurship
Some interesting facts from the House of Commons Business Statistics briefing paper from November 2016:
Over 99% of UK businesses are Small or Medium Sized businesses – employing 0-249 people
5.3 million (96%) UK businesses were micro-businesses – employing 0-9 people.
Microbusinesses accounted for 32% of employment and 19% of turnover.
Large businesses, with more than 250 employees, accounted for 0.1% of businesses but 40% of employment and 53% of turnover.
How can the figures be so very different?
There are two factors that I hope explain the gap. The first is the fact that the data in the House of Commons briefing paper uses net figures, reporting not just the birth of new businesses, but a subtraction of those that are no longer trading.
So, for example, in 2015 there were 383,000 business births (up 32,000 on 2014) and 252,000 business 'deaths'. That is a Net growth of 131,000, and it is the net figure that is reported by the House of Commons Business Statistics paper.
The second factor is the difference between registered business and unregistered businesses. A registered company means it is registered for VAT and/or Pay As You Earn (PAYE) with HMRC.
It is perfectly legal to be unregistered, and according to the Department for Business, Energy and Industrial Strategy and their 2016 Small Business Survey, 55% of all UK businesses are unregistered. There is only a requirement to be registered if you employ people, or you turnover is £85,000 or more, and so need register for VAT.
76% of all UK businesses in the UK have no employees (2016).
99.3% of all UK businesses employ less than 10 people, so if 76% of all UK businesses in the UK have no employees, 33.3% of businesses employ 1-9 people.
See the chart below: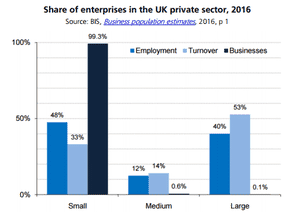 The headline figure in the Office of National Statistics report "UK Business: Size, Activity and Location 2016" (see copy here) is: "There were 2.55 million businesses registered for VAT and/or Pay As You Earn (PAYE) in the UK in March 2016 compared with 2.45 million in March 2015, a rise of around 105,000".
Compare this with the figure in the briefing paper from the House of Commons, which noted that there were 5.498 million businesses in the UK, and add data on the numbers of un-registered companies from a different report (from the Department of Business, Energy and Industrial Strategy), called 'Business Population estimates 2016" and the breakdown becomes a little clearer, as it states:
In 2016 there were 1.3 million employing businesses and 4.2 million non-employing businesses. Therefore, 76% of businesses did not employ anyone aside from the owner
The overall business population includes three main legal forms:

3 million sole proprietorships (60% of the total)
8 million companies (32%)
421,000 ordinary partnerships (8%)

Of the 5.5 million businesses, 45% (2.5 million) were registered for VAT or PAYE.
So these two factors explain how the figure of 657,790 new enterprises starting in 2016 is so much bigger than the data from other government sources.
The other thing I had been thinking about was business failure rate. Someone told me that 1 in 5 businesses do not survive their first year. That is pretty scary for someone starting out a new business.
So if that figure of there being 5.5 million businesses in 2016 is correct, and it includes all the new start-ups and sole traders regardless of whether they have registered for anything or not, then it also include all of the surviving 3.3 million new businesses created over the 6 years between 2011 and 2016 (see the Start-up Britain business tracker). In March 2011 there were 4.6 million businesses in the UK, which means that there were only 900,000 more new businesses in 2016 than in 2011, despite the fact that 3.3 million new businesses were created over that period.
That means 2.2 million businesses 'died' this period, and you would expect that a higher percentage of the newer businesses would be the failures, but it's not clear from this data.  The ONS Business Demography 2016 study reported the number of business births and deaths of companies registered for VAT or PAYE. The 'death' rate of businesses is pretty consistent at around 10%.
I am going to make what is a wholly inaccurate assumption: that the % of the businesses that 'die' each year shown above is consistent regardless of how long the business has been trading for. So initially I am ignoring all the new businesses started after 2011. There were 4.6 million existing businesses in 2011, and just look at how many of those 4.6 m should still be trading in 2016:
Year                 No. of Companies       Death rate       Number that 'die'
2011                4.600 m                       10%                 460,000
2012                4.140 m                       11%                 455,400
2013                3.685 m                       10%                 368,460
2014                3.316 m                       10%                 331,614
2014                2.985 m                       10%                 298,453
2015                2.686 m                       9%                   241,747
2016                2.444 m
With 3.3 million new start-ups created in this period, if they all succeeded, then there would be 5.744 million businesses in the UK by 2016, which isn't widely different to the actual figure of 5.5 million. However, Bloomberg reports that 80% of new companies will fail within 18 months (the same anecdotal figure I had of only 1 in 5 surviving, but mine was pessimistically only giving them a year).
However, two sets of data contradict this. In the US, the Small Business Administration (SBA) published data that shows that approximately 50 percent of start-ups actually survive through their first five years. And in the UK, in Business Demography 2011, the ONS found that the chances that a business launched in 2006 was still 'live' in 2011 was 45%*.
All in all, it is a phenomenally positive position – with 657,790 new business started in the UK last year, and a failure rate that is considerably lower than common perception.